Free Xfinity Flex Streaming Service, Streaming Box, and Voice Remote For Comcast Xfinity Customers With Internet Service
INTRODUCING XFINITY FLEX
A new way to stream. Now included with Xfinity Internet.
Enjoy Flex on Us: Streaming TV at no extra cost
Bring your streaming together with Flex at no additional cost. Stream favorites all in one place on your TV. Plus easily search across Netflix, HBO®, Prime Video, music, and over ten thousand free movies and shows with our Voice Remote.
Get 1 Streaming TV box plus X1 voice remote for $0/mo. Additional boxes/x1 voice remote $5/mo (up to 2 boxes).
We've got your back with a simple Self-Install Kit and 24/7 tech support.
Easily search across apps: Enjoy more of what you love, without switching in and out of apps, or changing inputs on your TV. Plus personalize your dashboard to find favorites fast.
Stream your paid subscription services like Netflix, Prime Video, HBO, etc/ plus thousands of free shows and movies. Videos and creator content on YouTube. Apps like ESPN3, EPIX, and Tubi. You can even rent or buy more to enjoy anytime.

Also enjoy free music (e.g. Pandora, iHeartRadio), news, games… Stay up to date with NPR One and Cheddar News. And check the weather before your commute.

Simplify your streaming at no extra cost: Control it all with our award-winning Voice Remote. Just say "Big Little Lies," "Dancing grandmas on YouTube," or "Slow jams on Pandora." And boom, there it is.

Separate subscriptions required for certain streaming services.
Supports shows and movies in ultra-high definition 4K Ultra HD.
Requires a post-pay subscription to Xfinity Internet (25 Mbps or above) service and compatible xFi Gateway and Xfinity Flex device.
1 device included at no extra charge.
Additional devices $5/mo. per device.
Pricing subj. to change.
Taxes, fees and other applicable charges extra and subject to change.
Limited to 3 devices.
All devices must be returned when service ends.
Separate charges apply to On Demand and certain streaming services.
Subscriptions required to Netflix, Prime Video, SHOWTIME, HBO and related channels.
Viewing will count against any Comcast data plan.
4K Ultra HD availability subject to your separate subscription plans, Internet service, device capabilities, and content availability.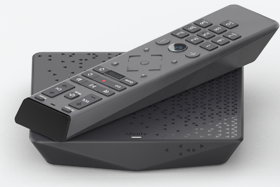 posted in Hot Deals